Beescape is a web-based tool developed by Penn State University to help beekeepers, gardeners, urban planners, growers, researchers, and land managers assess the quality of their landscapes for supporting bees and other pollinators. Bees can fly up to 3 miles (5 kilometers) from their nest to find food, and Beescape provides an easy way for you to explore the landscapes surrounding your location.
How to Use Beescape
After launching Beescape, select your location by entering your address or by manually navigating to your location using the web interface.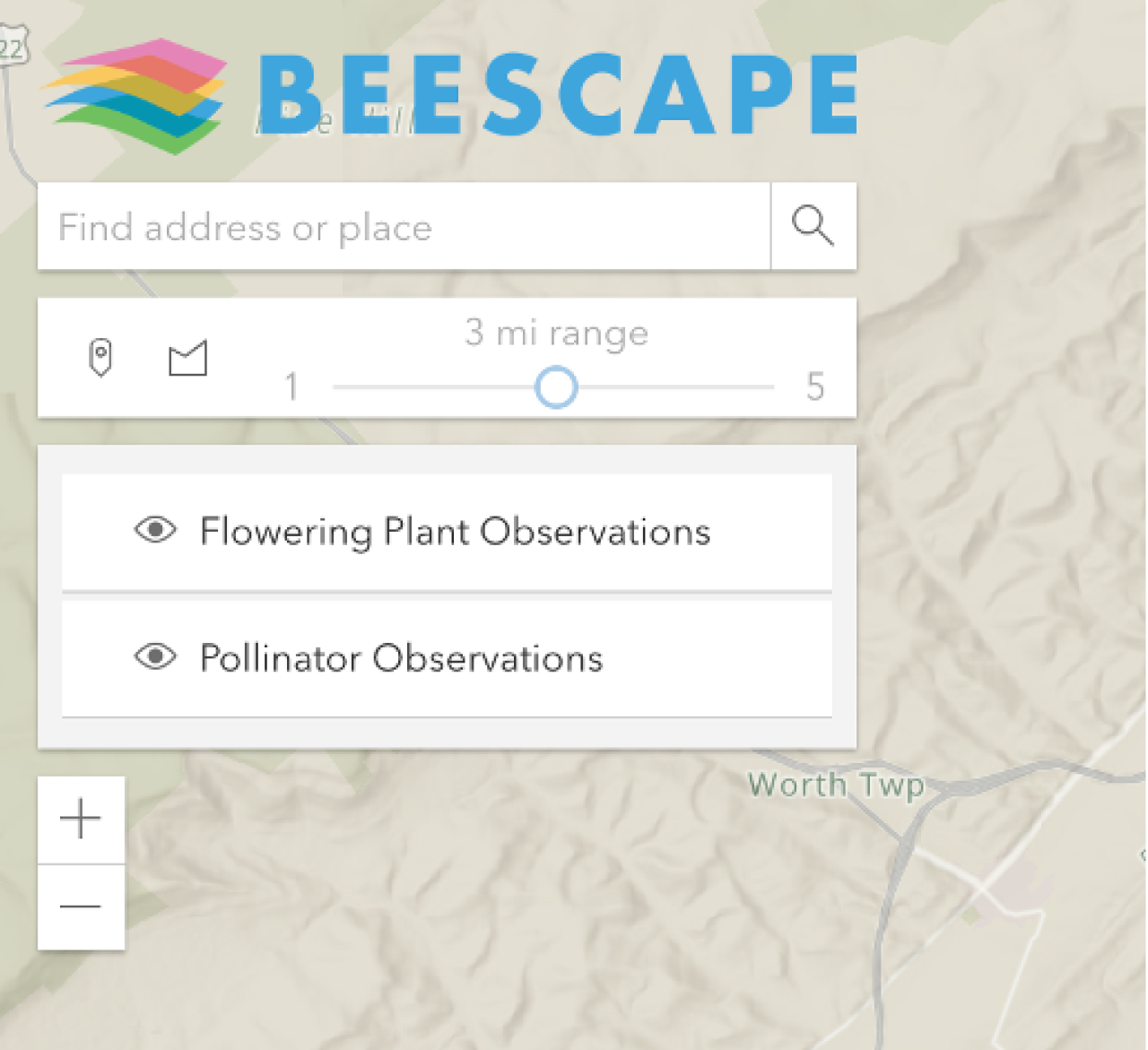 You can select an area of interest in two ways:
1. Use the point icon. You can then move the range on the sliding scale bar, and drop the point in the middle of your area. Beescape will then draw the range chosen around the center point. If you select 2 miles, Beescape will draw a circle with a radius of 2 miles around your point.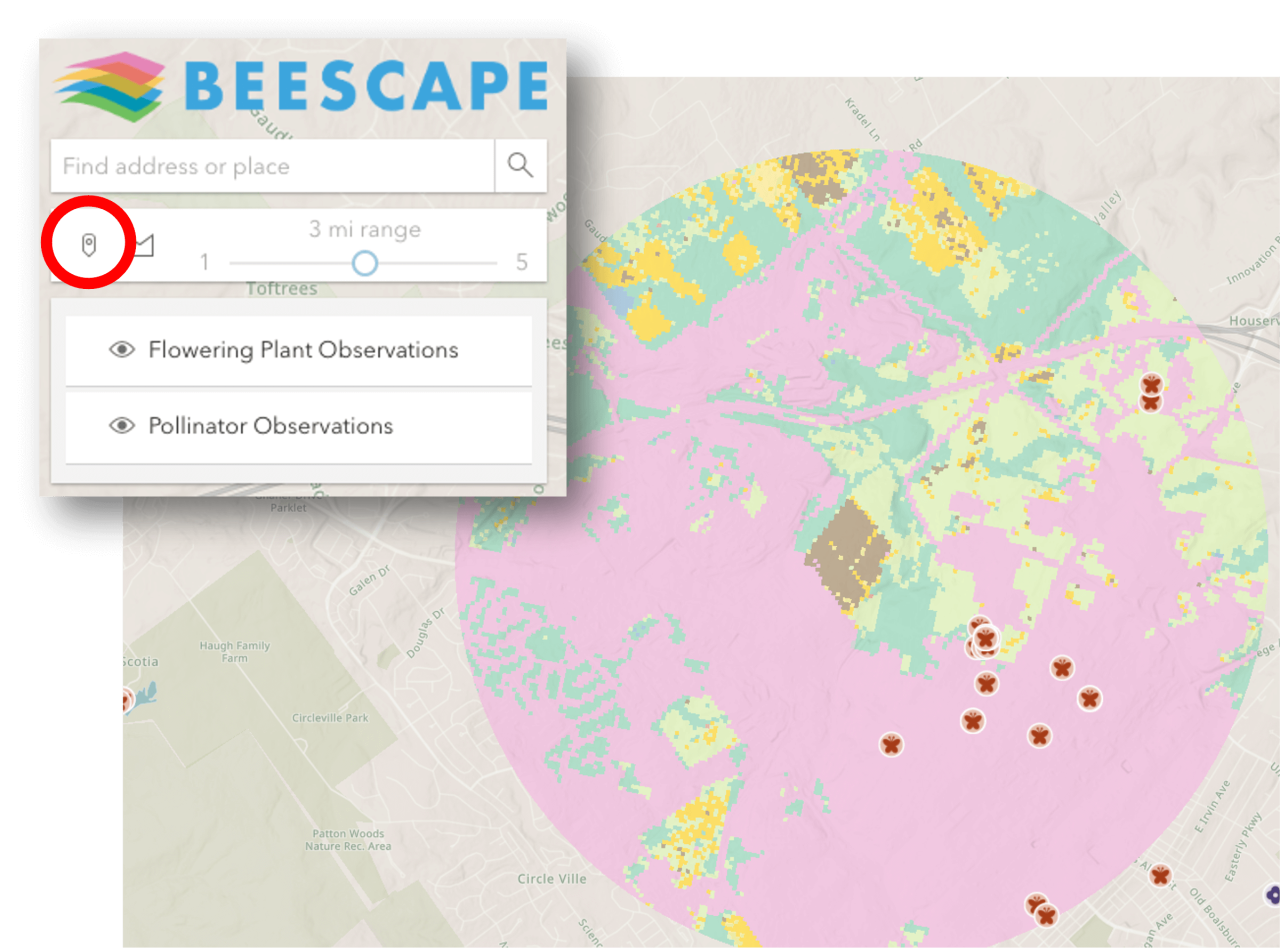 2. Use the polygon icon. Select the polygon icon and draw the area of interest on the map.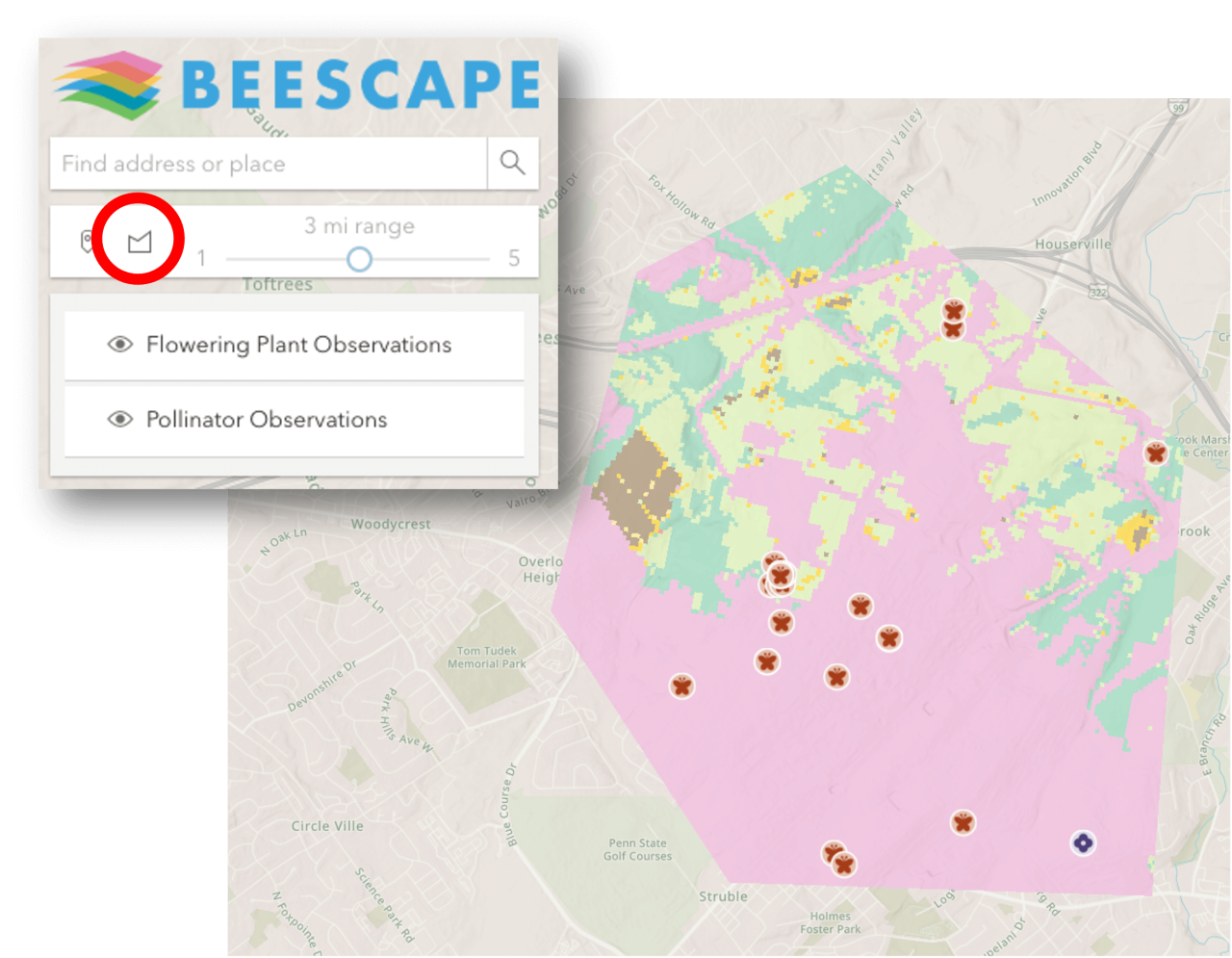 Habitat Quality Factors
Beescape will provide the landscape quality scores for wild bee nesting habitat availability, levels of insecticide exposure, and seasonal (spring, summer, fall) forage quality. If you hold your cursor over the individual quality score bar, you can see the exact score.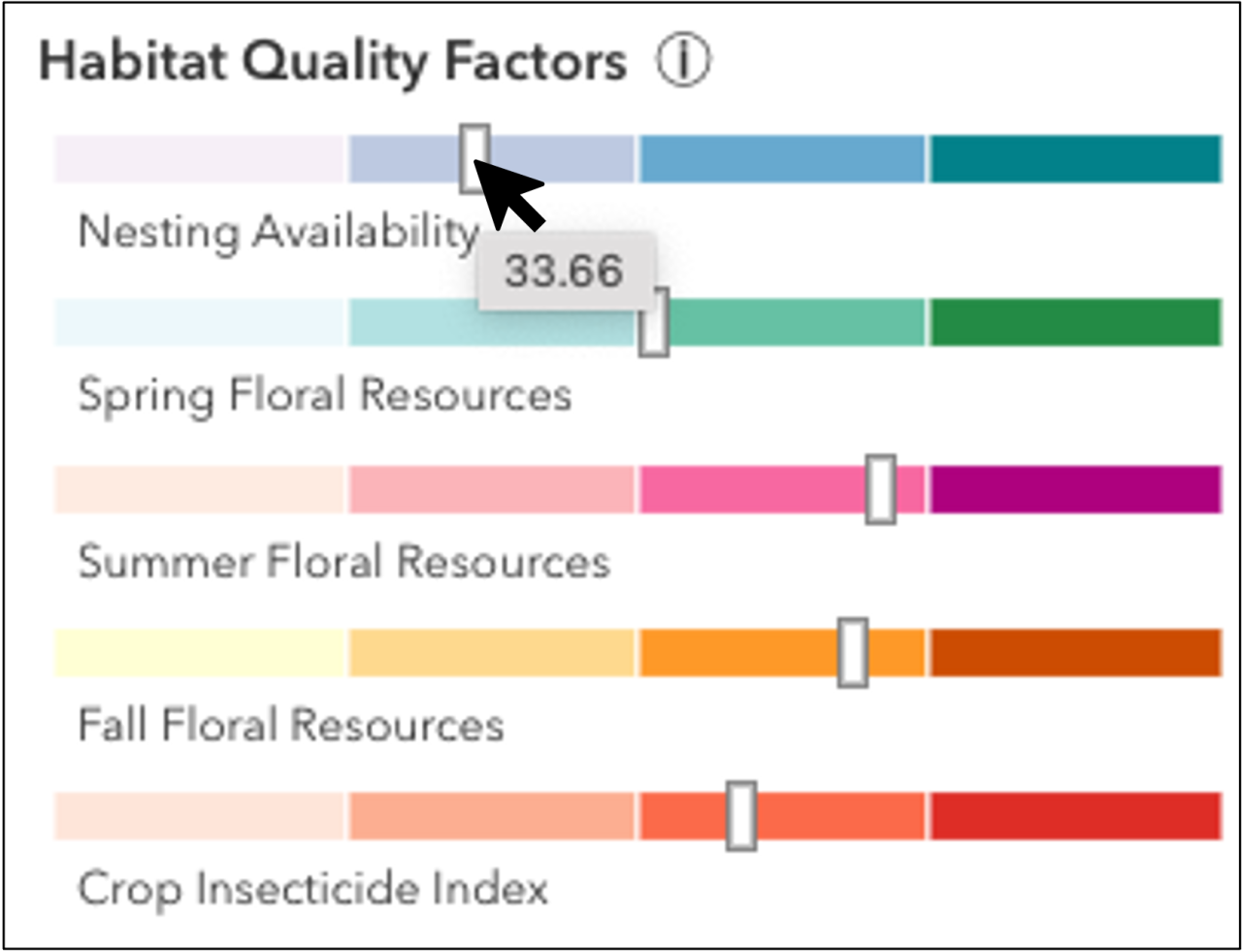 These scores are compared to the average scores found in the north central United States, so you can determine if your landscape is low, medium, or high quality compared to the average for this region.
Economic Value of Pollinators
Beescape calculates the amount of economic value pollinators provide to agricultural crops in your selected area. Some crops, like fruits, depend heavily on insect pollinators. Other crops, such as corn, are wind-pollinated. In areas with more pollinator dependent crops, the economic value provided by pollinators will be higher.

Land Use
Beescape will summarize the land use types in your selected area. If you hold your your cursor over the smaller land use types, the name of the land use category will be provided.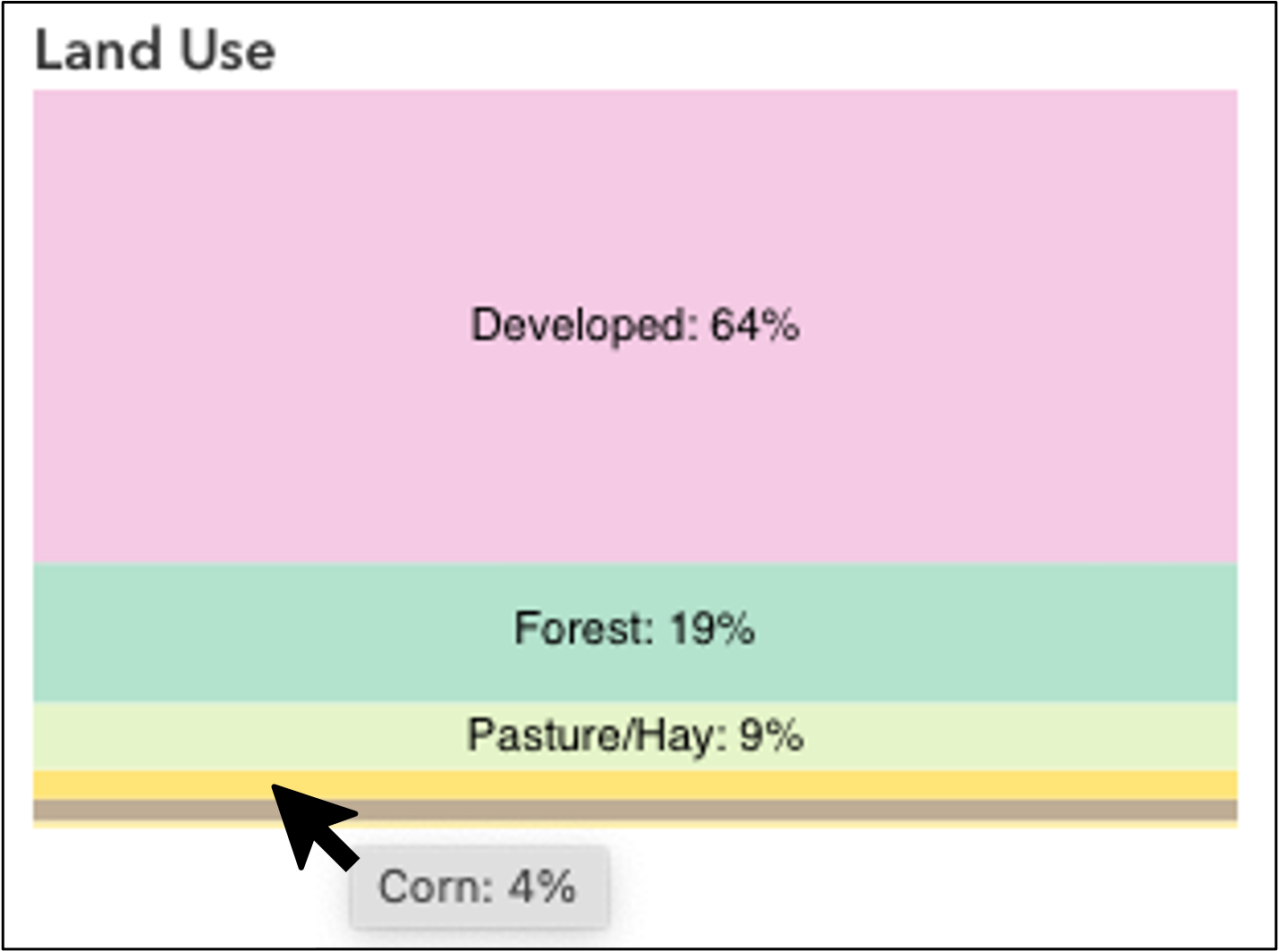 Climate
Beescape will also provide the monthly average temperature and total monthly precipitation for the current year, compared to the 10-year average for your selected area.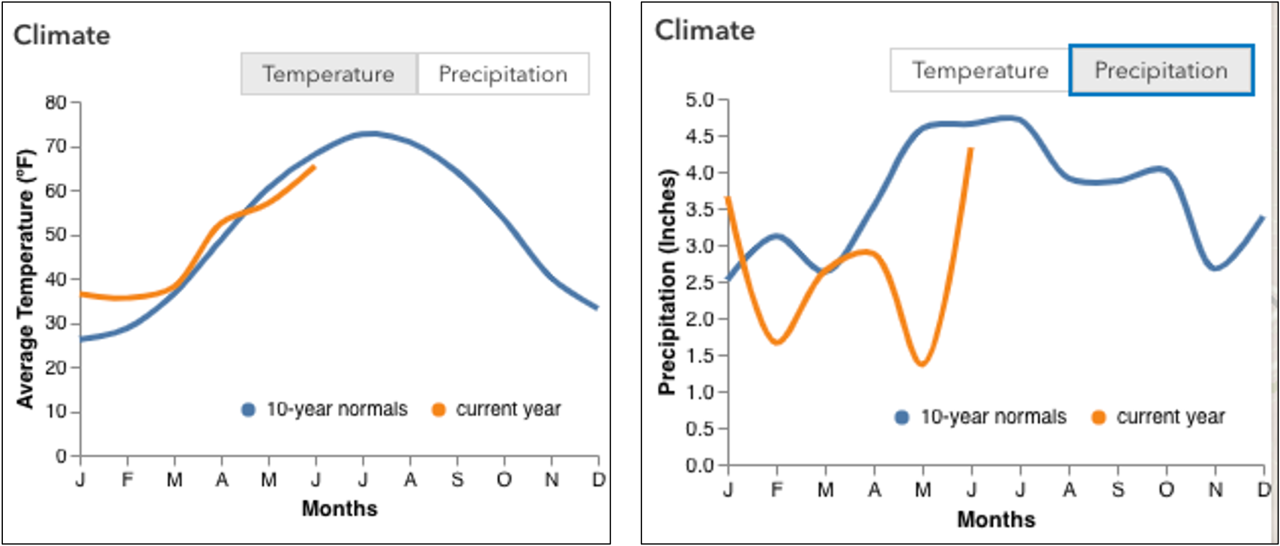 iNaturalist Observations
If you see flower or butterfly icons in your area, these represent records in iNaturalist of flowering plants or pollinators (bees, butterflies, flies, etc) that have been observed in the last 31 days. Click these to learn what has been observed, and follow the link to iNaturalist to get more information. You can sign up for iNaturalist to add your own observations.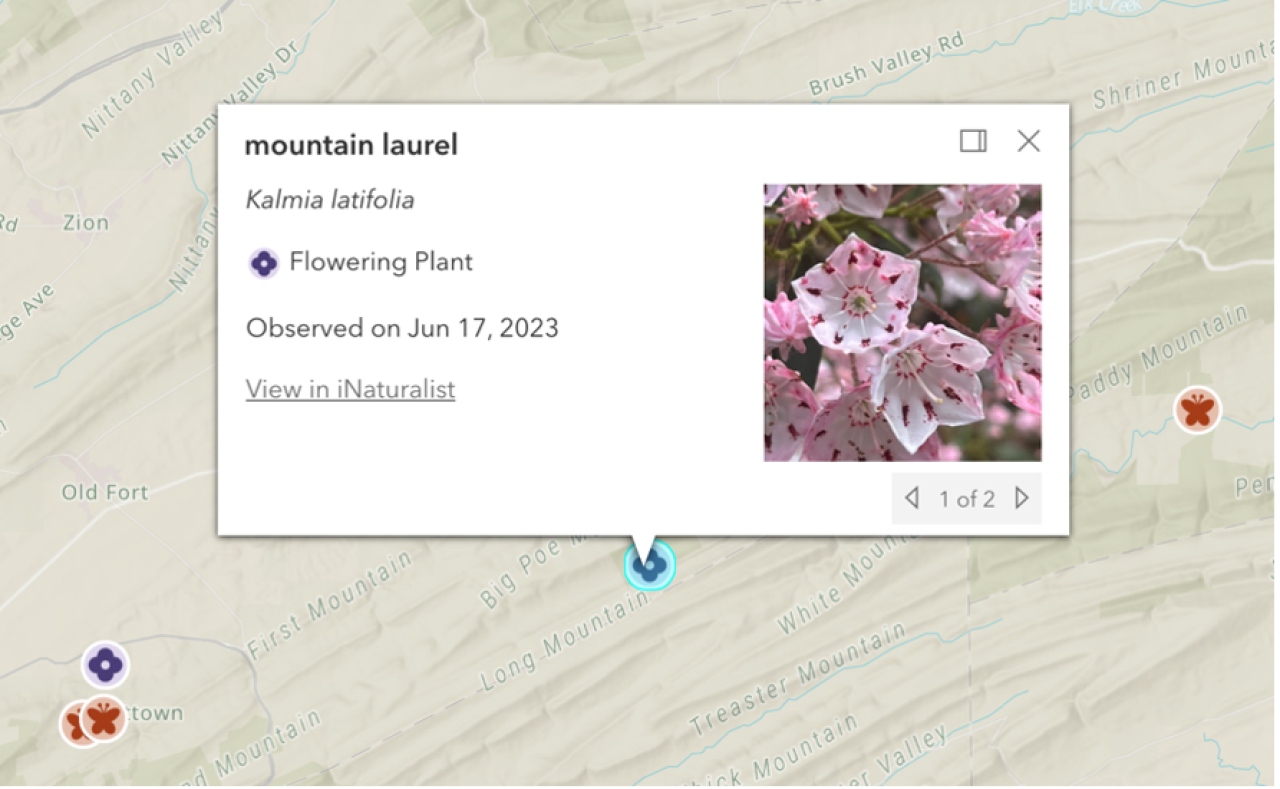 Base map
On the lower left corner of the map, there is a button you can use to change the background map features to show the roads or satellite view.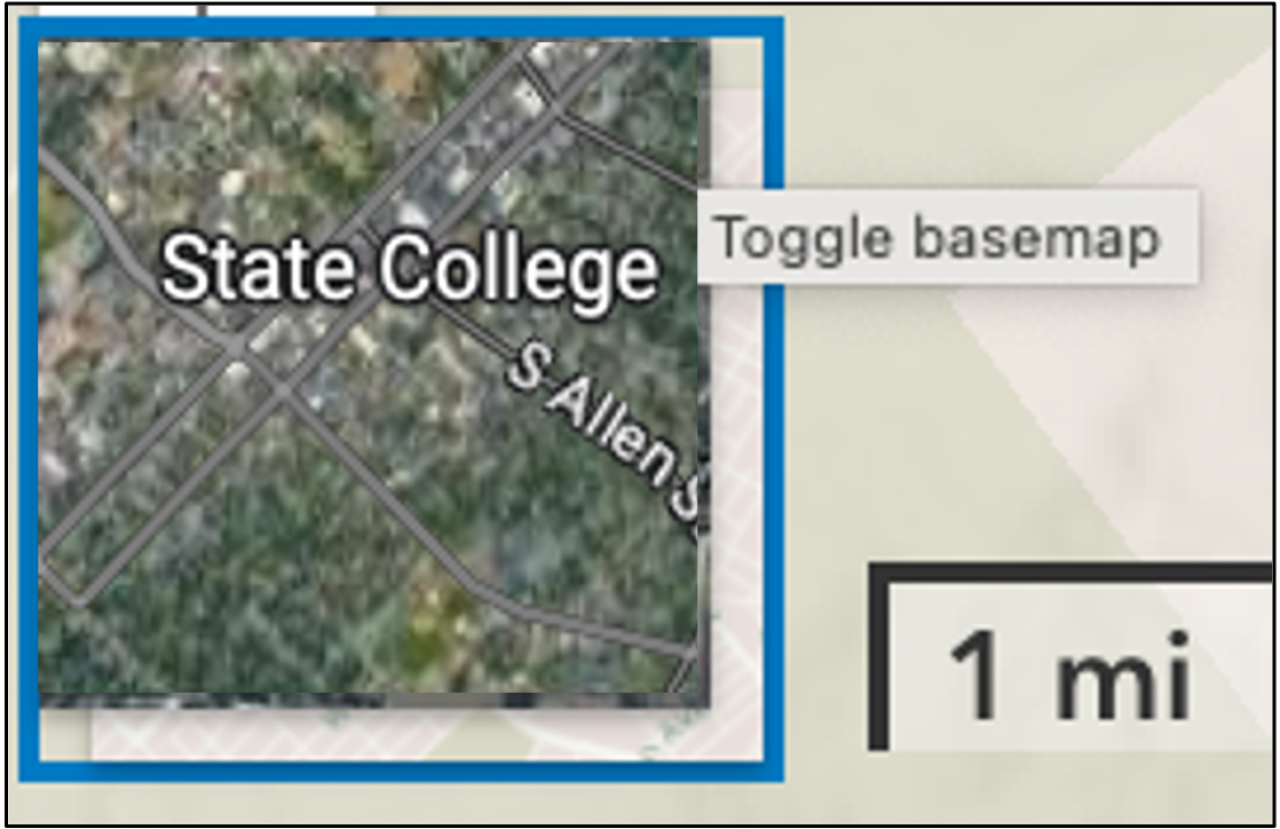 Beescape is a decision support tool centered around pollinator health. This tool uses GIS (Geographic Information Systems) to help predict the resources and threats that foraging bees encounter as they forage in a landscape. This tool is intended to help people learn how to improve their locations to support bees, or help beekeepers select better sites for their apiaries.

The data for the habitat quality scores is based on the Cropland Data Layer (CDL), which is generated by the US Department of Agriculture each year, using satellite images. The CDL predicts the types of crops or other habitats (such as forest) at a 30 m resolution.

The nesting index predicts the availability of nesting habitat for wild bees based on the habitats present. The forage index predicts the amount of flowering plants available in the spring, summer, and fall. The insecticide index summarizes the typical insecticide use patterns for different crops and estimates how toxic these are to bees.


The economic value of pollinators is calculated based on the types of crops in the selected area, how much those crops depend on insect pollinators to produce seeds, fruits, or vegetables, and the average yield/acre and price for that crop.

The climate data comes from the PRISM Climate Group at Oregon State University in the form of monthly average temperatures and monthly precipitation totals. The current year's data is presented alongside the average values from the previous ten years to help beekeepers account for abnormal weather that may impact winter survival rates.

Beescape was created by a team of researchers with pollinator, statistical and computational expertise. The Beescape tool combines ecological, meteorological, and GIS (Geographic Information System) data from several sources.

Beescape is led by researchers from Penn State's Center for Pollinator Research, in collaboration with scientists at the USDA-Agricultural Research Service, University of Pittsburgh, Emory University, University of Minnesota, Dickinson College, University of California, Davis, University of Wisconsin, Madison,University of Illinois, Urbana-Champaign, Purdue University and Azavea Corporation.

Current team members are shown below, and principal investigators are marked with a *.


Penn State University

Christina Grozinger*

Anthony Robinson*

Heather Grab

Darcy Gray

David McLaughlin

Gabriela Quinlan

Lily Houtman

USDA-ARS

Sarah Goslee*

Melanie Kammerer

University of Pittsburgh

Vikas Khanna*

Anais Ostroski

Emory University

Dickinson College

Prestby, Timothy J et al. 2023. "Characterizing user needs for Beescape: A spatial decision support tool focused on pollinator health." Journal of Environmental Management 325: 116416. https://doi.org/10.1016/j.jenvman.2022.116416.

Douglas, Margaret R., et al. "Putting pesticides on the map for pollinator research and conservation." Scientific Data 9.1 (2022): 571. https://www.nature.com/articles/s41597-022-01584-z

Quinlan, Gabriela M., et al. "Grassy–herbaceous land moderates regional climate effects on honey bee colonies in the Northcentral US." Environmental Research Letters 17.6 (2022): 064036. https://iopscience.iop.org/article/10.1088/1748-9326/ac7063/meta

Robinson, Anthony C et al. 2021. "Beescape: Characterizing user needs for environmental decision support in beekeeping." Ecological Informatics 64: 101366. https://doi.org/10.1016/j.ecoinf.2021.101366.

Kammerer, Melanie et al. 2021. "Wild Bees as Winners and Losers: Relative Impacts of Landscape Composition, Quality, and Climate." Global Change Biology 27(6): 1250–65. https://doi.org/10.1111/gcb.15485.

Calovi, Martina, Christina M Grozinger, Douglas A Miller, and Sarah C Goslee. 2021. "Summer Weather Conditions Influence Winter Survival of Honey Bees (Apis Mellifera) in the Northeastern United States." Scientific Reports 11(1): 1553. https://doi.org/10.1038/s41598-021-81051-8.

Jordan, Alex, Harland M Patch, Christina M Grozinger, and Vikas Khanna. 2021. "Economic Dependence and Vulnerability of United States Agricultural Sector on Insect-Mediated Pollination Service." Environmental Science & Technology 55(4): 2243–53. https://doi.org/10.1021/acs.est.0c04786.

Sponsler, Douglas B, Don Shump, Rodney T Richardson, and Christina M Grozinger. 2020. "Characterizing the Floral Resources of a North American Metropolis Using a Honey Bee Foraging Assay." Ecosphere 11(4): e03102. https://doi.org/10.1002/ecs2.3102.

McNeil, Darin J et al. 2020. "Bumble Bees in Landscapes with Abundant Floral Resources Have Lower Pathogen Loads." Scientific Reports 10(1): 22306. https://doi.org/10.1038/s41598-020-78119-2.

Kammerer, Melanie, John F. Tooker, and Christina M. Grozinger. "A long-term dataset on wild bee abundance in Mid-Atlantic United States." Scientific Data 7.1 (2020): 240. https://www.nature.com/articles/s41597-020-00577-0

Douglas, Margaret R, Douglas B Sponsler, Eric V Lonsdorf, and Christina M Grozinger. 2020. "County-Level Analysis Reveals a Rapidly Shifting Landscape of Insecticide Hazard to Honey Bees (Apis Mellifera) on US Farmland." Scientific Reports 10(1): 797. https://doi.org/10.1038/s41598-019-57225-w.

Beescape is made possible by USDA-NIFA-AFRI (#2021-67021-34146), USDA-NIFA-AFRI (#2018-67013-27538), the Foundation for Food and Agricultural Research (#549032) and the National Socio-Environmental Synthesis Center (NSF DBI 16391 45).

Contact us by emailing beescapepsu@gmail.com