October 09, 2023
A Summer in the Pollinator and Bird Garden
with the Penn State Center for Pollinator Research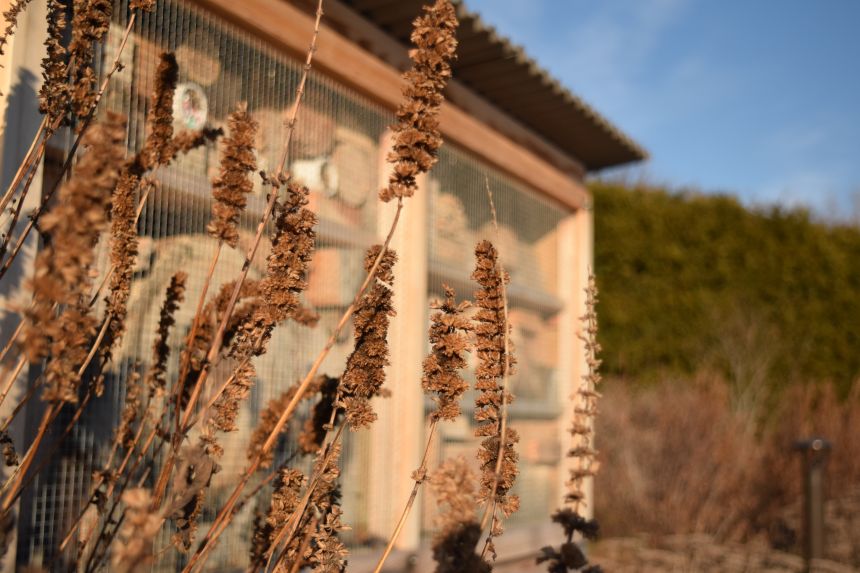 Heather Frantz
Adding an additional three acres to the footprint of The Arboretum at Penn State, the Pollinator and Bird Garden is a science-based garden created by experts from many fields, including horticulture, entomology, ornithology, and landscape architecture. The Pollinator and Bird Garden serves as a living classroom for students, researchers, educators, and the general public. In its third summer open to the public, The Center for Pollinator Research spent a lot of time learning and creating in the garden.
Research
InsectEye continues to be tested in the Pollinator and Bird Garden, now erected on the pathway near the circular meadow disk and the gravel service road. This AI–based, nonlethal insect trap and identification system won the 2021 Nittany AI Challenge.
Orion Pizzini spent his summer identifying solitary bees in the genus Megachile and collecting pollen samples. Orion hopes to learn the nutritional preferences of these bees, specifically the protein to lipid ratios found within the pollen.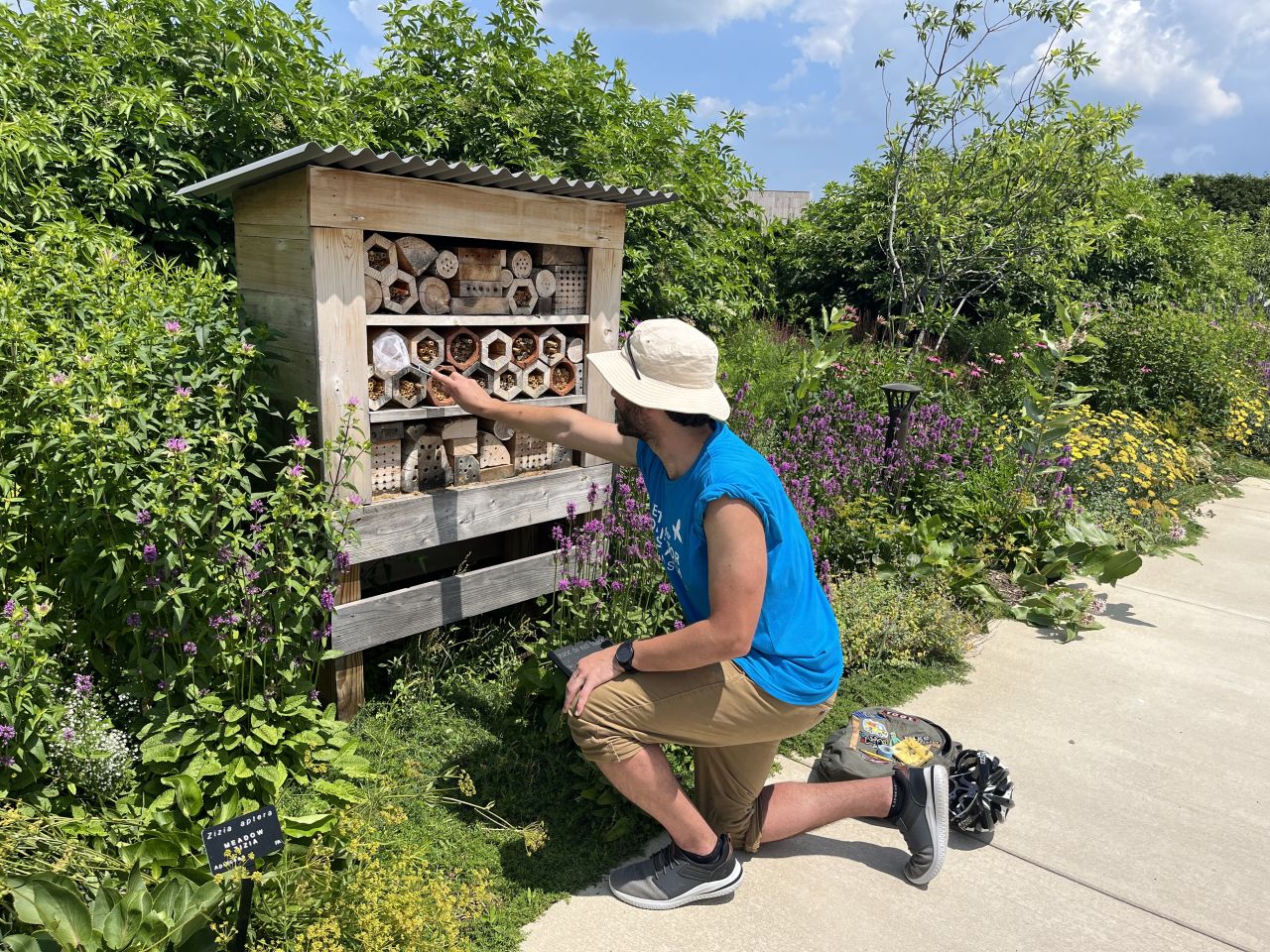 Cody Feuerborn collected pollen from five bumble bee (Bombus) species from four different Pennsylvania sites, including the Arboretum. The pollen will be analyzed to determine whether bumble bee species differ in their nutritional preferences. The ultimate goal of the study is to provide information that can be used to enhance nutrient availability for the conservation of diverse wild Bombus species. By improving nutritional status, we can ensure that there are sufficient resources to support colony growth.
Education
The Center for Pollinator Research led numerous educational workshops this summer. In May we hosted a Solitary Bee Hotel public program. 14 participants learned about the cavity-nesting solitary bees in Pennsylvania such as mason (Osmia spp.), leafcutter and resin (Megachile spp.), and wool carder (Anthidium spp.) bees. Then, participants built a bee hotel to install in their home garden using precut wood pieces and hollow phragmites stems. If you are interested in constructing your own bee hotel, the blueprints and building instructions are free on our website.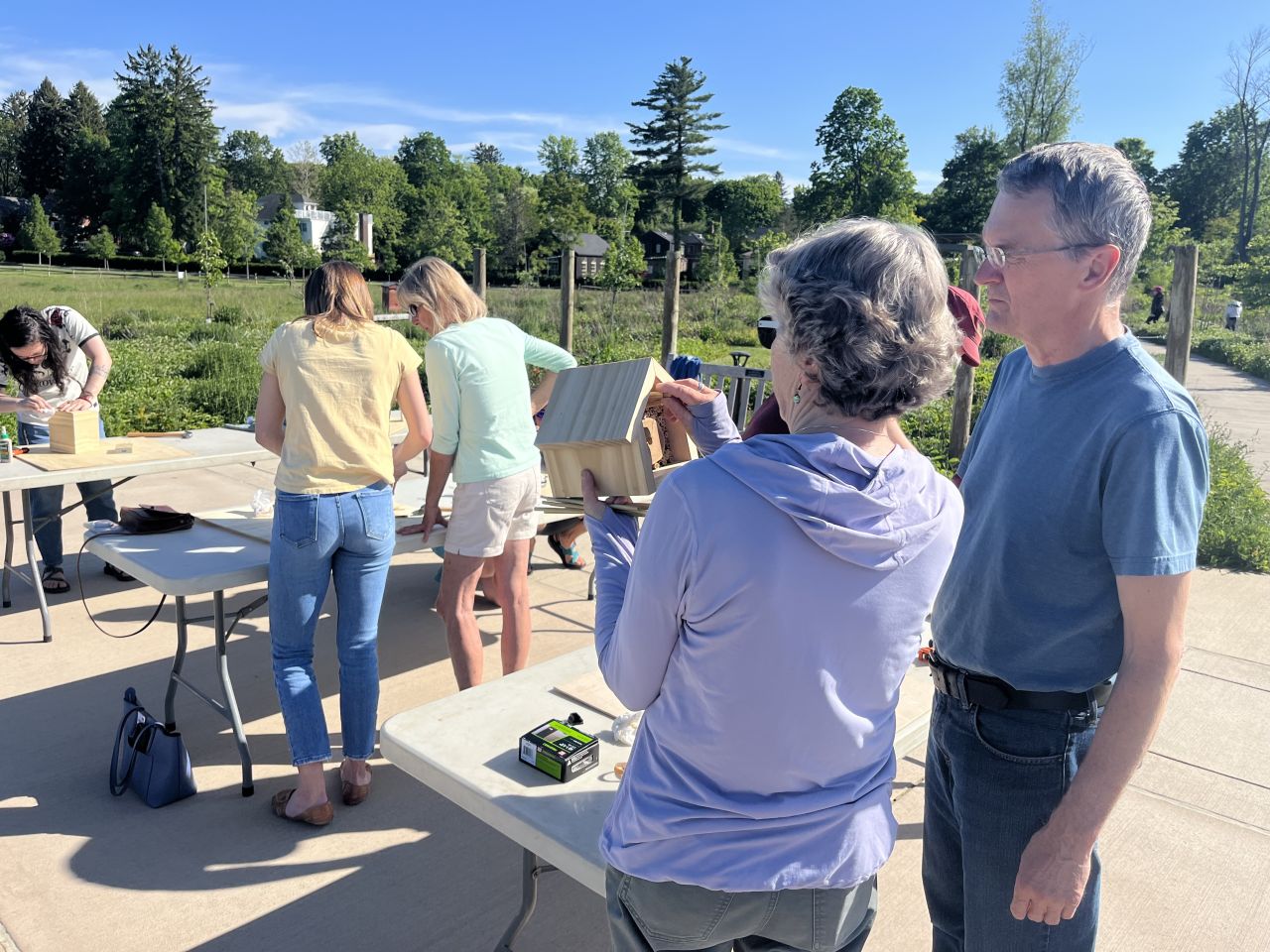 In June we partnered with the Xerces Society, offering the Pollinator Conservation Short Course. This full-day workshop featured presentations and research from Xerces' Pollinator Conservation specialists and Penn State scientists on creating and protecting pollinators and their habitat in urban, agricultural, and natural landscapes. This short course was attended by over 90 people, including many Master Gardeners.
After developing an interdisciplinary science curriculum with the Center for Science and the Schools (CSATS), the Center for Pollinator Research hosted a group of 14 elementary teachers on Penn State campus for three days. Time was spent at the Frost Museum, the Arboretum at Penn State, and the Student Farm. The group also took a trip to the Penn State Berkey Creamery, of course! Teachers learned valuable skills and knowledge to bring back to their classroom, including insect identification, using microscopes, pollinator and human nutrition, and gardening.
The development of the AG SEEDLINGS (Agricultural Science in Elementary Education Learning In Gardens at School) curriculum was funded by a grant from the United States Department of Agriculture (USDA). Lessons are available for grades 1st through 5th that integrate science, math, and English language arts. Lesson plans are free and available on the Center for Pollinator Research website in the resource library. Full unit modules for each grade can be found here.
In late July and early August we offered activities for families in the Childhood Gate Children's Garden, just steps away from the Pollinator and Bird Garden. Penn State research labs and organizations including Shaver's Creek, The PA Honey Queen, and U.S. Fish and Wildlife enjoyed sharing bees and other pollinators with young children.
Art
Various art mediums including graphic design, watercolor, and videography have contributed to creating educational materials for the Center for Pollinator Research. Sara Usnick, a film production major in the college of The Donald P. Bellisario College of Communications spent her summer in the garden taking footage of pollinators and flowers for educational videos. Subscribe to our YouTube Channel!
Recent graduate Victoria Millsap created beautiful watercolor illustrations of the plants in our Pennsylvania Pocket Field Guides, inspired by the flowers in the Pollinator and Bird Garden. Both the field guides and her illustrations are available on our website in the resource library and the image library, respectively. We continue to work with Victoria as she begins her master's program in France. The pocket field guide Plants for Butterflies will be available this October.
Our Work Continues
As greenery fades into fall foliage, the Center for Pollinator Research continues its mission of conducting and communicating research that advances pollinator health and conservation. Next time you are in the Pollinator and Bird Garden at The Arboretum at Penn State, be sure to say hello!