May 01, 2023
Organic beekeeping rivals conventional methods for bee health, productivity
Study the first to show that organic beekeeping management supports high honey-bee survival and honey production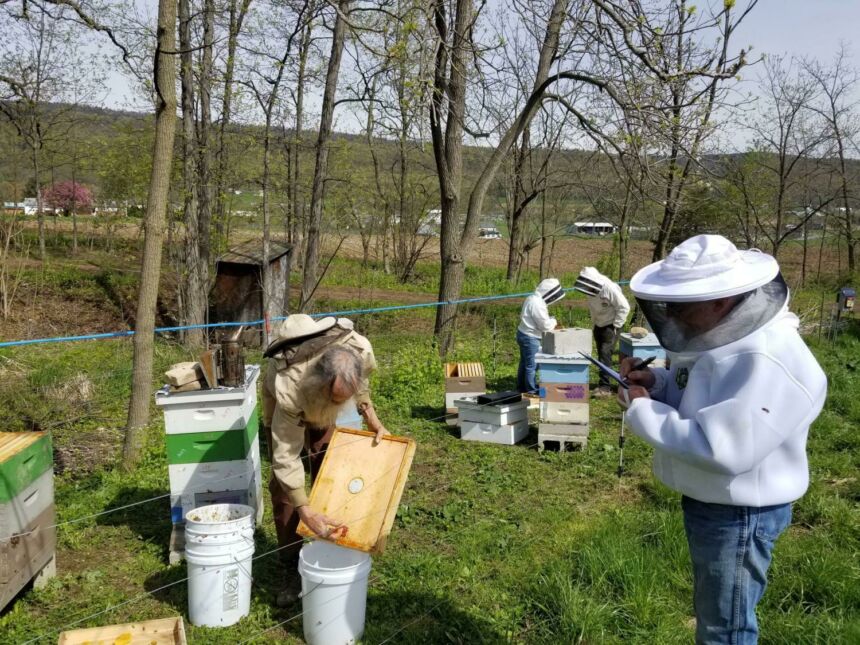 This article was written by Chuck Gill for Penn State Today.

April 19th, 2023
UNIVERSITY PARK, Pa. — Honey bee colonies managed using organic methods were as healthy and productive as those managed in conventional systems, while avoiding the use of synthetic pesticides to control pests and pathogens inside the hive, according to newly published research led by Penn State entomologists.
The researchers said they believe that their study, which compared the performance of honey bees under three types of management systems, is the first to show that organic beekeeping management is sustainable and supports high honey-bee survival and honey production.
The methods beekeepers use to manage honey bee colonies are crucial in helping their bees overcome stressors such as pests, diseases, pesticide exposure and nutritional deficiencies, noted study lead author Robyn Underwood, apiculture educator for Penn State Extension.
"Beekeeping management is a key aspect of honey bee health because it can help mitigate some of the negative effects caused by these stressors," Underwood said. "For example, supplemental feeding can mitigate a lack of flowering plants nearby for foraging, and beekeepers can manage pests such as Varroa mites with cultural, mechanical and chemical control practices."
Despite these management tactics, 30% or more of honey bee colonies in the United States — including about 40% in Pennsylvania — die each winter, and beekeepers around the world continue to seek advice on best management practices to maintain healthy and productive bees.
Study co-author Margarita López-Uribe, associate professor of entomology and Lorenzo L. Langstroth Early Career Professor in Penn State's College of Agricultural Sciences, pointed out that there has been little research conducted on organic beekeeping, primarily because of requirements that limit beekeepers' ability to sell their products as certified organic.
"In addition, existing studies largely have looked at the effect of one or two aspects of management at a time," she explained. "But in reality, risks and benefits occur in the context of numerous other management decisions involved in beekeeping. Studies like ours using a systems approach can help us better understand the long-term trade-offs among the various practices."
To evaluate the effectiveness of various beekeeping approaches, the researchers studied nearly 300 honey bee colonies located on eight certified organic farms — six in Pennsylvania and two in West Virginia. The research team developed study protocols in collaboration with 30 experienced beekeepers.